Bennington Project Independence
Dr. Richard A. Sleeman Center
614 Harwood Hill - P.O. Box 1504
Bennington, VT 05201
Phone: (802) 442-8136 | Fax: (802) 447-8291
Donate today!

Copyright © 2014, Bennington Project Independence, Adult Day Service. All rights reserved.
Questions or Comments? Contact Us.
Web Site Design by: Maureen Stadnik

About the Dr. Richard A. Sleeman Center

Our Journey to Harwood Hill
Bennington Project Independence began in the basement of the Baptist Church when the local Elderly Action Committee, a group of local long term care providers, saw the need for an option to traditional nursing home care for some people potentially at risk of placement. With a grant from the State of Vermont's Independence Fund, Bennington Project Independence was created.
BPI later moved to the Senior Citizens Service Center, a shared facility at 124 Pleasant in Bennington, which we very quickly out grew. BPI had been searching for a home to call its own for almost 20 years.
In 2004, BPI purchased the severely blighted 5.3 acre Zechariah Harwood farmstead. The owner at the time, Mr, Henry De La Pena believed in BPI's mission so much that he gifted back half the cost of the property to our organization and our new home was born.
Architect Gary Corey and Lisa Rusate from Centerline Architects worked with Linda Wichlac, BPI Executive Director, Project Manager Christopher Cole from Cole Co. Elizabeth Brawley from Design Concepts Unlimited and MacDonald-Secor Construction to create the amazing Dr. Richard A. Sleeman Center. The combination of renewable energy and green technology, 1783 historic preservation elements and innovative healthcare technology make the Dr. Richard A. Sleeman Center a model for our State and the Nation.
Our Capital Campaign "From a Historic Past to a Caring Future" raised the additional funds needed through very generous donations, tremendous grassroots support as well as exceptional Federal and State support, diverse private foundation and grant funding to complete Phase One of the Dr. Richard A. Sleeman Center.
Our "housewarming" in 2009 was attended by almost 400 people.
Check out our Virtual Tour (above) and our "Next Steps" for what's in store for Bennington Project Independence and the Dr. Richard A. Sleeman Center for Phase II.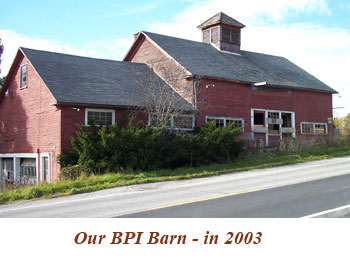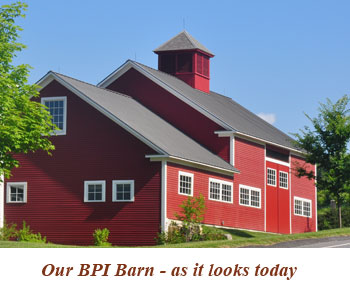 Bennington Project Independence, Adult Day Service was given an exceptionally generous gift of $2.5 million by Mrs. Lillian Sleeman Seward, in memory of her brother, Dr. Richard Alexander Sleeman, who passed away on May 6, 2006 in Bennington, VT. This gift was pivotal in realizing the dream of a new and expanded Adult Day Center for BPI.
The Dr. Richard A. Sleeman Center, which opened March 23, 2009, combines the historically significant 1783 Zechariah Harwood Farmstead with energy efficient and green technology and state-of-the-art healthcare innovations.
At the Dedication for the building, then-VT Governor James Douglas proclaimed the Dr. Richard A. Sleeman Center and BPI services "a role model for the State and for the Nation," and said that "Dr. Richard A. Sleeman believed in giving back to the people of this community, especially recognizing the need for support and independence of our disabled and senior citizens."
Richard Alexander Sleeman was born in Bennington and attended Cora B. Whitney School. He graduated from Saint Francis de Sales Academy and from Bennington High School in 1944. He received a Bachelor of Science degree from Fordham University in 1949, a Master's Degree from New York University and Doctorate in Science and Math from New York University in 1954.
He was the Educational Director at the Massachusetts College of Liberal Arts in North Adams, Massachusetts. In the early 1970's, he spearheaded the drive to raise the money to complete the Bennington Recreation Center on Gage Street that also included the Town being deeded the land which is now known as the "Y Woods". Dr. Sleeman also served on the Bennington School District Board and was a Town Lister.
In giving the gift in loving memory of her brother, Mrs. Seward said her brother had a special fondness for the elderly and younger people with disabilities that may need extra care and socialization in their lives. If he were alive today, he would be very proud and thankful that this was done in his memory.
We are exceptionally grateful to Mrs. Lillian Sleeman Seward for her extraordinary generosity and vision that helped make the Dr. Richard A. Sleeman Center possible and helped create a legacy that will serve the community for generations to come.